return
CONCEPTBAGS in the production of domestic ecopoints for the lisbon chamber
18 Aug 2021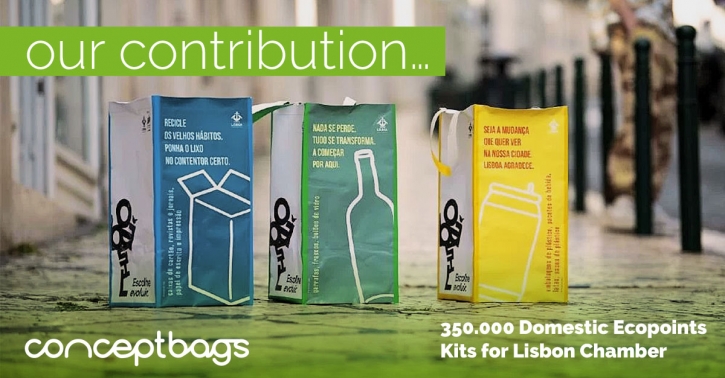 On the 5th of April, Lisbon City Chamber announced the distribution of free recycling domestics ecopoints for all residents of the capital.
Together with the Society Ponto Verde, the chamber decided to send 350 thousand kits in order to promote recycling and environmental preservation of the city. Lisbon is, at the moment, the Portuguese city with the highest recycling rate in the country and the introduction of domestic ecopoints aims to increase this percentage.
The kit consists of three ecobags (reusable and recyclable's bags produced with 100% recycled post-consumer polypropylene raffia), suitable for separation of paper/cardboard, packaging and glass, with all the information of what can be deposited, printed in each ecopoint.
With domestic ecopoints, developed and produced with CONCEPTBAGS, which operates on the market for over 20 years, we not only won the Lisbon City Chamber, as we have been conquering internationally renowned brands.
Our experience made this project a success and exceeded expectations, according to what we have been achieving over these years, always guaranteeing maximum quality and the fulfilment of all stages of the process.
Regarding to domestic ecopoints, they can be developed from two types of raw material:
- 100% recycled bags, produced using post-recycled raw materials consumption, through the use of leftover bags and other plastics
- 100% recycled oceanic bags, which contribute to the resolution of a problem increasingly present on our planet - ocean's pollution!
Collaborate with the existence of a cleaner coastline and are produced through marine ropes and end-of-life fishing nets.
With this initiative, CONCEPTBAGS hopes to continue to expand its area of expertise in the sustainability and environmental preservation programs, programmed not only by the local authorities, but also nationally and internationally.
CLIPPING:
- Linkedin
- NIT